Rainwater pipe brackets
The WUS clamp as a brand name!
Those who know our pipe clamps and brackets also appreciate them.
WUS clamps/brackets are not "also rans" ‑ it's the attention to detail and special accessories that for many years have enabled us to make a name for ourselves with WUS clamps.

Our pipe clamps/brackets therefore feature pre-fitted collars/escutcheons on square nails, a stable impact plate, a good fit, reinforced lower screw threads (important with copper downspout brackets and fastenings!), the use of exclusively top-quality eyebolts (stainless steel and copper!) and innovative mounting/fitting solutions for every type of surface ‑ regardless of whether its is brick-/stonework, metal, wood or exterior insulation finishing systems ‑ all of which are key advantages.
WUS ‑ YOUR advantage in when it comes to building!
WUS downpipe support element
According to the specifications of the revised plumbing rule 4.6.3 "Connection and fastening of rainwater downpipes", static proof is required for the fastening of downpipes for building heights of 8 meters and more. According to these specifications, WUS is the first manufacturer to introduce a suitable fastening solution on the market. The new downpipe support element from WUS is available for pipe dimensions of 100 mm and 120 mm. The supplied mounting accessories allow for attachment directly to the masonry, without external insulation, as well as to plastered polystyrene insulation, wood fiber insulation boards or to ETICS with mineral wool (up to 200 mm).
WUS Downspout Brackets M8 / M10 FIRE GALVANIZED
The new "WUS rainwater pipe Bracket M8 / M10 FIRE GALVANIZED" is a popular product among our customers.
Properties
Hot-dip galvanized combination connection nut M8/M10|eye bolt in stainless steel|eye bolt secured|long-term protection against corrosion
The downpipe clamps are available in
hot-dip galvanized (galvanized all around)

The dimensions 50mm, 60mm, 76mm, 80mm, 87mm, 100mm, 120mm, 150mm
Downpipe clamp with square pin and rosette
Properties
double riveted|strong thread with 3 threads|secured ring screw|pre-assembled cover rosette on the square pin for better covering of the pothole|hammer pins in lengths of 140, 200, 250 and 300mm|design: round or box-shaped
The downpipe clamps are available in
hot-dip galvanized (galvanized powder-coated with duplex process)
titanium zinc, copper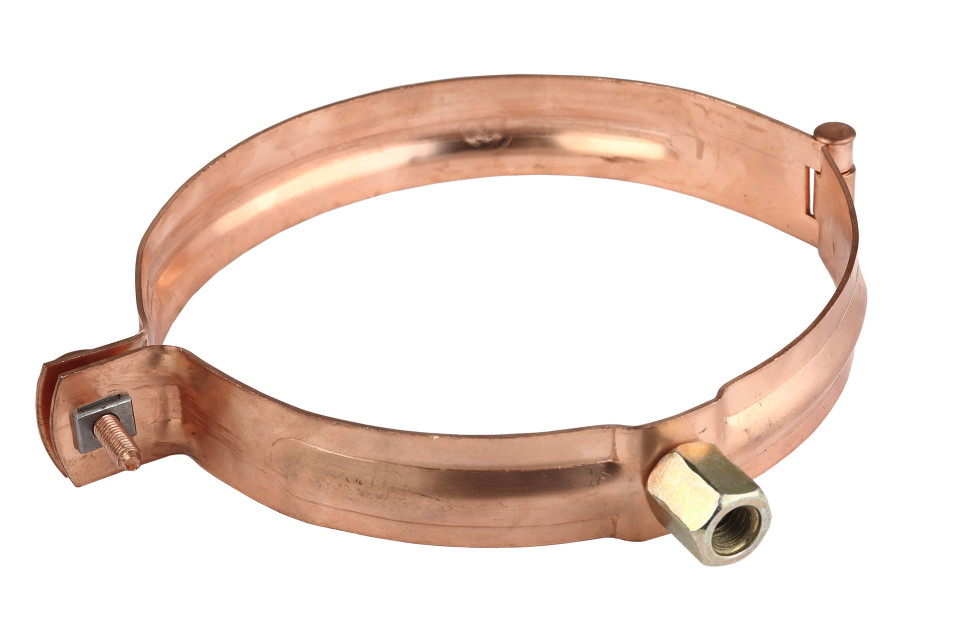 Downpipe clamp with combination nut M8/M10
Properties
Hot-dip galvanized combination connection nut M8/M10|riveted|strong thread with 3 turns|secured eyebolt|design: round or box-shaped
The rain/downpipe clamps are available in
hot-dip galvanized (galvanized all around)
titanium zinc; hot-dip galvanized combination connection nut
Copper; Combination connection nut yellow chromated
Stainless steel (V2A, 1.4301; connection nut M10)
Downpipe clamp with impact screw pin 140 mm
Properties
double riveted|strong thread with 3 turns|secured ring screw|impact screw pins with collar dowel (12x65)
The downpipe clamps are available in
the lengths 140 and 200mm
hot-dip galvanized (galvanized all around)
copper
stainless steel (V2A, 1.4301)
WUS Practica pin tube clamp
Properties
easy assembly thanks to the wide opening angle|can be used for many common standpipes|hardened impact pin in lengths of 120 and 200mm
The pin tube clamp is available in
Stand pipe clamp with combination nut M8/M10
Properties
easy assembly thanks to the wide opening angle|can be used for many standard standpipes|secured eyebolt|combination connection nut M8/M10
The standpipe clamps are available in