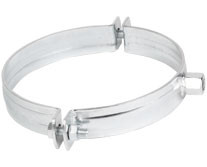 WUS Practica VdS Sprinkler Clamp
Our sprinkler clamps are VdS certified!
"VdS certifications have an excellent reputation with manufacturers, service providers and end consumers. They create confidence and provide the assurance that components, equipment, systems or services correspond with the highest testing standards. The VdS certifications are backed by the bundled expertise of an independent institution. This independence is proven by numerous accreditations and, furthermore, is the best proof of the high credibility and unique competence of the VdS service."
Quote:http://vds.de/en/certifications/
Pipe clamp for Sprinkler and high requirements in industry and mechanical engineering
Properties
VdS approved for Sprinkler installations (approval No. G 4080001)
Strong construction for heavy load application
Zinc plated
We would be very pleased to support you with all your individual questions and suggestions regarding WUS.
Give us a ring or leave a message indicating the information you need.
We will contact you as quickly as possible.
Your WUS team